Whether you are a novice freelance writer busy with your first job search or a more experienced writer who wants to enhance their writing efficiency, several apps and services might help, such as Writers Work. However, recently there has been some controversy over whether Writers Work is legit and might even be a scam. So, after using its platform to find freelance jobs and write articles, I wrote this article to help all who want answers.
---
Is Writers Work Legit For A Freelance Writer?
#1 Freelance Writing Platform
Writers Work | Write your way to the life you want
"Get Paid To Write So That You're Free To Live!"
Pros:
Work Remotely & Earn Great Money

Easy To Use Job Board

Fantastic Training Materials
Cons:
Cost a Monthly Fee

Their Web Based Text Editor Is Not As Good As Grammarly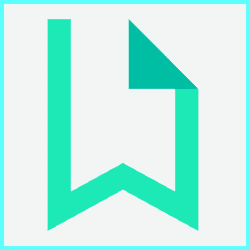 We earn a commission if you make a purchase, at no additional cost to you.
The short answer is YES, Writers Work is a legit freelance writer website. The platform connects writers with clients who need their expertise, providing a steady stream of work for writers to choose from. Based on my personal experience I know this platform is very comparable to other freelance writer websites such as Fiverr or Upwork.
I will explain why I say so further on in this article.
---
What Is Writers Work?
Writers Work is an online service that provides freelance jobs to freelancers by searching other third-party websites' job boards for job listings. These job listings are specifically for writing jobs such as blogging, web and social media content, and copywriting.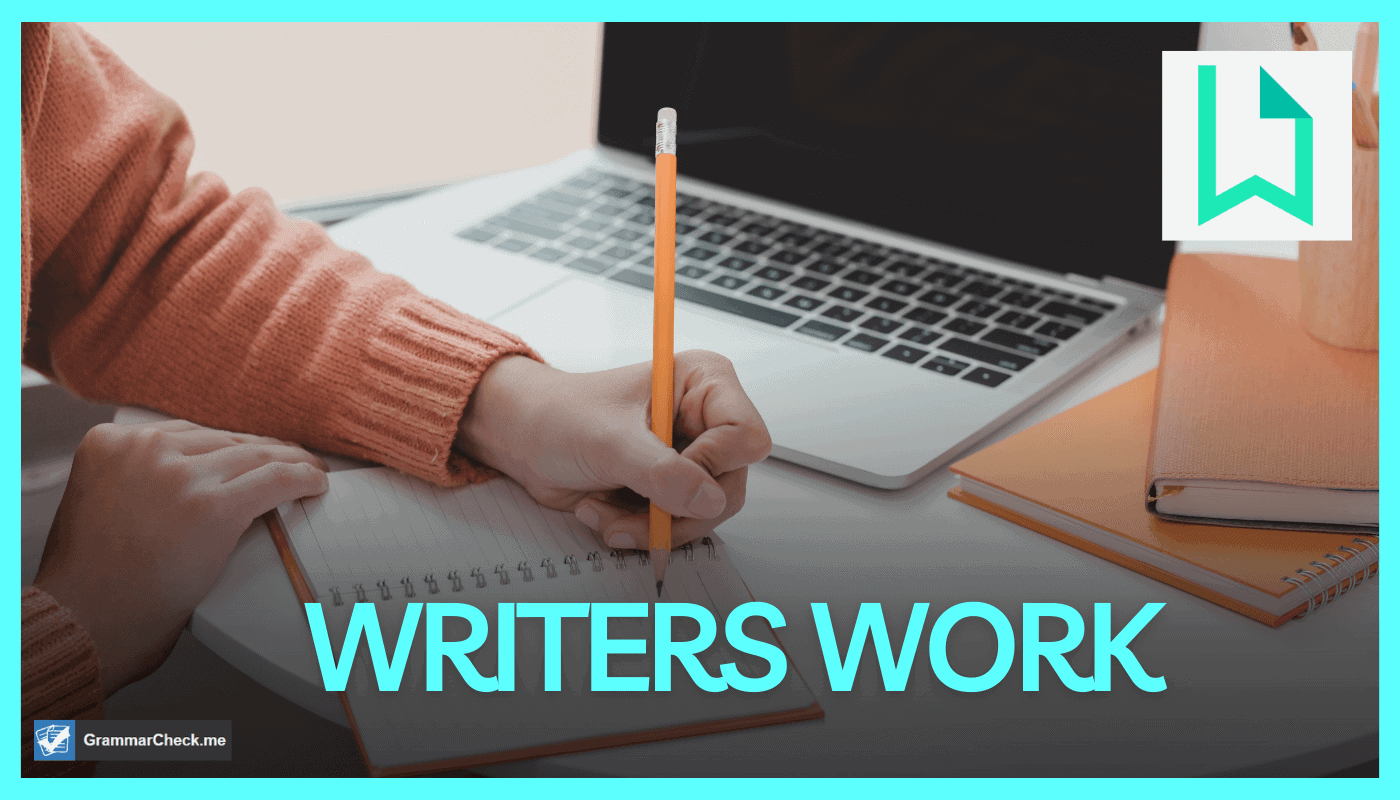 The platform also provides tools and services that enhance your work and client engagement and increase your work rate efficiency. These tools include:
Easy communication with clients
Text Editor and Writing Tools – Enables you to write directly within the platform with added spelling and grammar checks.
Workload organizing tools
Writing statistics (for example, words per minute)
Writers Work University – Educational service for improving writing and employment success
---
Is It Worth It?
Personally, I believe that Writers Work is 100% worth it & a great way to make some extra money as a freelance writer. After you have read our posts on indefinite adjectives and other grammar rules, you will be armed with the knowledge to get writing right away!
Make Money
Work From Home or Anywhere
Easily Find Work
Once you become more experienced and have built up an impressive portfolio, you can try Writers Work, the writing tools and writing statistics can help improve your efficiency. You might even learn a thing or two from Writers Work University.
---
Writers Work Review – What I Liked Most
There are a couple of Writers Work features I liked, but these few are my favorites:
Workload Organizing Tools

– This is beneficial as it increases your work efficiency.

Writing Statistics

– You can observe your progress as a writer every week and see how you are improving, for example, by writing more words per minute every week.

Optimized Job Board

– Writers Work curates job listings from nine free job boards related to freelance writing. Saving you time from searching all these individual boards and only highlighting writing jobs based on your keyword criteria.
---
Other Features & Benefits
Writers Work has many features and benefits specifically for writers, most you have already read. However, here are some I have yet to mention:
Goals and Time Tracking

– Gives you the ability to set goals for a given amount of words you want to type or hours you want to work every day.

Portfolio Creation and Sharing

– Writers Work allows you to create an online portfolio on their website. Featuring an "About" page, social media linking, a listing of services you provide, and previous work experience.
---
Explain Writers Work Job Listings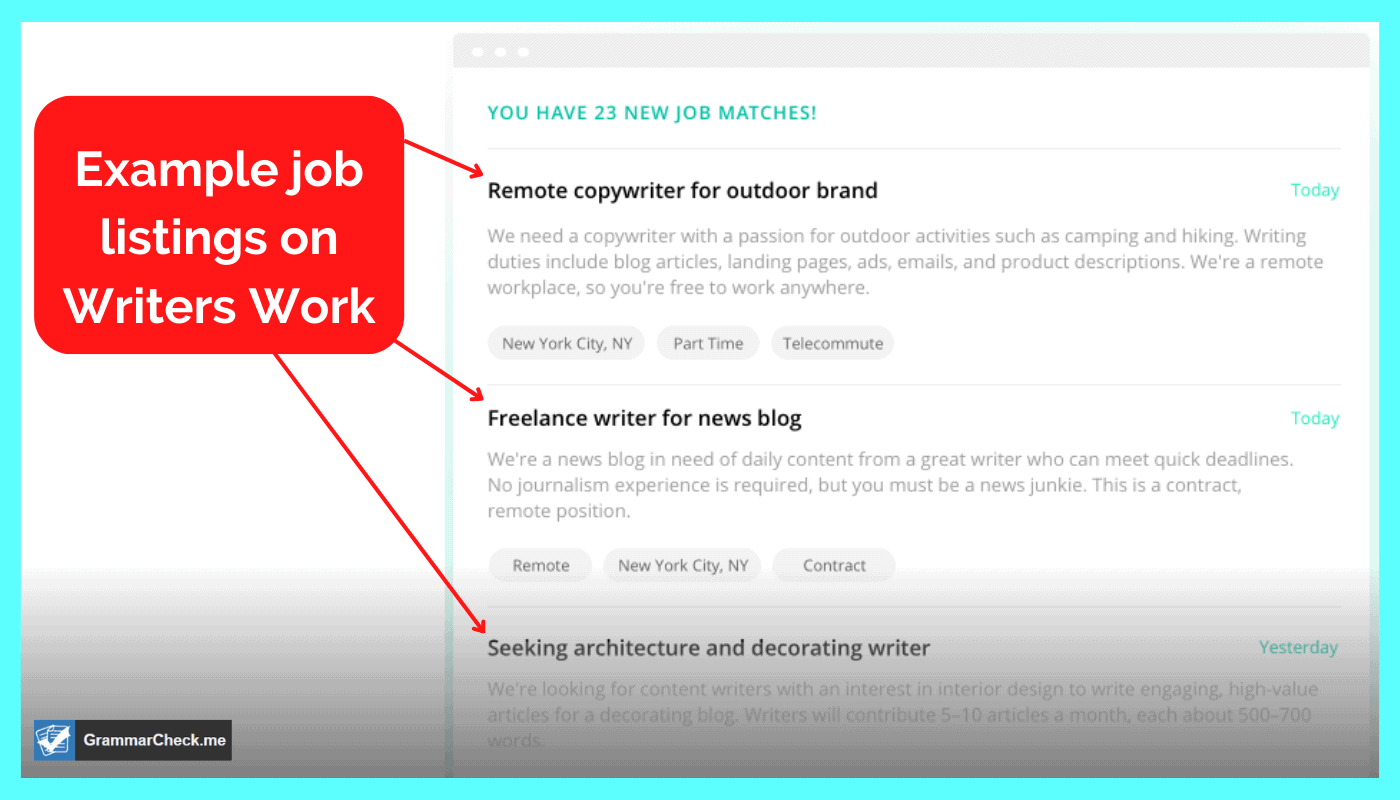 To be clear, paying for a Writers Work membership does not guarantee a gig. You will still have to propose and win gigs first, and all the jobs are sourced from third-party sources, Writers Work only curates them for you.
The job listings can be found in abundance, and with the help of the keywords, it enables you to find and filter out tailor-made jobs for you. A process that can be manually done by other sites such as ProBlogger Jobs.
Once you find a promising job listing, you will be redirected to the website the listing originated from. From there on, the application procedure depends entirely on each website. This could mean you would be required to submit a proposal or email a pitch.
---
What I Didn't Like
Web-based text editor – Writers Work has a text editor with added spelling and grammar checks. At first, I found the editor quite easy to use, but after some extended period of use, the editor became buggy. In my opinion, I would not trust their grammar software alone to write an academic research paper or another piece of formal writing. Also, the grammar checker missed some mistakes I made, which, luckily, Grammarly picked up.
The Price Point – Writers Work will cost you $15 or $47 for a monthly and lifetime membership, respectively. Although you can make money fast, I still would rather pay less monthly. For most of their services, there already exists other software and websites that specialize in that particular service, for example, websites like Grammarly, Google Docs, and ProBlogger Jobs.
Customer Service – When I tried reaching out to the website to gather information on a bug during my experience, I had to wait two days before I received a reply – which is not favorable considering you are paying them to improve your life as a freelancer.
---
Quality of Writers Work Training Materials
Included in your membership is the Writers Work University. A collection of training materials comprising three modules and 19 video lessons. Some of the topics you will be educated on include:
How to build a portfolio
How to manage being a freelance writer
How to send pitches
Writing help
Even though each lesson only lasts a few minutes, it does cover the topics quite extensively. They'll teach you how to write great titles amongst many other concepts! Writers Work also offers additional packages, which include a 30-minute long one-on-one session with a writing coach and a Freelance Writer toolkit for $99.
Additionally, you can purchase two extra video courses for $99. And if you need some extra help with grammar, I would recommend taking the Knowadays Proofreading Academy or reviewing all of our training material here at Grammarcheck.ME.
Although I found the content quite engaging and well constructed, I believe that a quick search on YouTube or Udemy will help you find all the educational content you need to become a great freelance writer.
---
Do They Offer Refunds
Yes, Writers Work does have a 30-day money-back guarantee. However, don't be under the impression that you will get your money back quickly. It takes, on average, 10 days for people to be refunded their money. This again comes back to the lack of quality customer service Writers Work provides.
---
Am I Qualified For A Freelance Writing Career?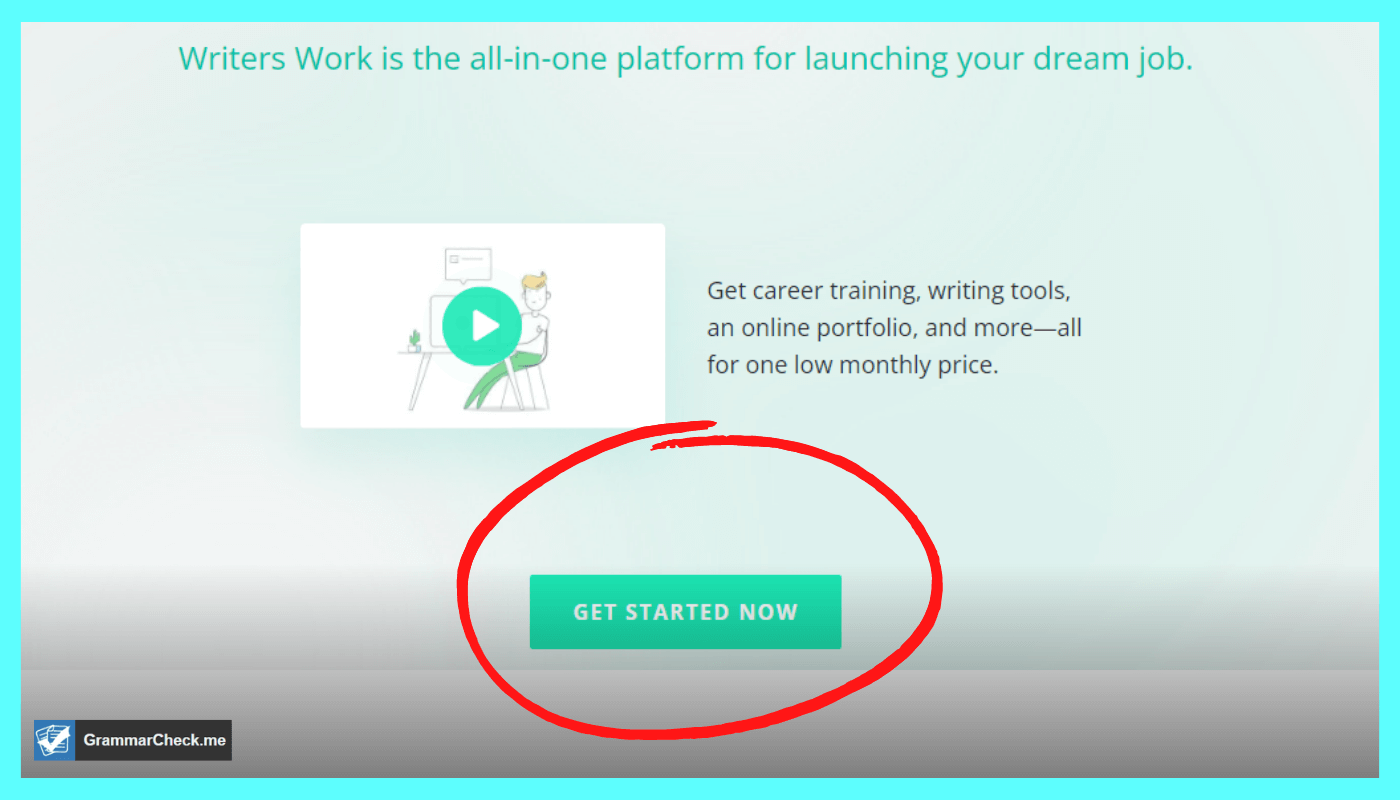 As the quest for full-on digital transformation persists, the demand for quality content writers grows. There are many freelance writers, yet few provide the skills most clients are looking for. It is thus vital for you, as a novice or even a more advanced freelance writer, to do the proper training to ensure you are qualified enough to land that gig and client satisfaction guarantee. Things you can do:
A good grasp of English and well-educated in English grammar and spelling.
Educated in the different types of freelance writing – Clients will want you to do many kinds of documents, including listicles, blog posts, how to's, etc. Each document has a different style of writing with different key features.
Knowing these different writing styles and features is vital as it will determine how well a client's experience will be with you as a freelance writer and how likely they will recommend you.
Training with tools such as Grammarly, Hemmingway and SEO tools such as SurferSEO.
From personal experience, I would recommend that you start with free or low-paying jobs to build up experience – the more experience you have, the more qualified you as a freelance writer are, and the more likely it is that you will land that gig. Use QuillBot or Grammarly software to make sure you don't make any silly typos!
---
Benefits Of Freelance Writing
1) Work Remotely
This is the main reason why I became a freelance writer. The advantage of working from anywhere in the world is that it creates a sense of freedom that cannot be described in words. As long as you have a laptop with a power connection, stable internet, and immense discipline, then you are good to go.
2) Minimal Time Commitment
As opposed to a 9-5 job, freelance writing only requires you to be fully committed for an allotted period. You can divide your work into a few hours in the morning, then again a few hours in the afternoon, and maybe finish up in the evening. As long as you get the job done then the client will be happy.
3) Can Work on A Diverse Range of Projects
I have worked as a freelance writer for a couple of years, and I can say that my general knowledge has increased dramatically.
Most clients will need you to write on one particular subject and keep to that subject, but you always get that one client who would come in with all kinds of topics for you to write about. These clients would require you to research a topic and write an article about that topic. Doing so helps you learn things you would have never set out to learn on your own.
Thus, you will never get bored as a freelance writer – that I can guarantee you!
---
How Writers Work Stacks Up To The Competition
Writers Work has compiled a list of services a freelance writer generally requires a bundled them up to create an all-in-one platform. I found most of these services are on par with the competition. However, there are a few instances that I would rather recommend you use each competitions service, such as for:
Education on how to become a Freelance Writer

– Websites like YouTube, Udemy, and Coursera

Searching for Freelance Writing Jobs

– Websites I use the most are UpWork, Fiverr and ProBlogger Jobs.

Tools to Help Improve Your Writing

– Most have a free and paid version, I like to use Grammarly as opposed to Wordtune, others include HemmingWay App, Copyscape and Draft.
---
Frequently Asked Questions
Does writers work actually pay?
No, Writers Work only finds jobs from third-party websites for you based on your search criteria. They do not offer writing employment and are strictly a website to help improve your effectiveness as a freelance writer.
How do I find Work on writers Work?
First, you must pay a membership fee and complete your profile. After you have done all that, you can start finding freelance writing jobs via Writers Work. The website will search nine job boards based on your job criteria and keyword entry, saving you considerable time from browsing each website individually.

Please note: Writers Work claims that you will earn $20-$65 per hour – this is not true. Some jobs will pay that rate, yet it is not guaranteed, and you will also need to compete with a considerable amount of other writers for the same freelance writing opportunities.
Can you make a living using Writers Work?
On Writers Work alone, NO, you cannot. However, using Writers Work to find a freelance writing job on third-party websites can help you make enough money to cover your living expenses.
How do you get paid from writers work?
You do not get paid directly from Writers Work, instead, the payment method will vary with each individual job based on the platform it was posted on and the client's preferences.
---
The Bottom Line
Writers Work is a good website for someone who wants the benefit of having all their writing tools and services in one place. However, as the saying goes, "Jack of all trades, master of none," these services are pretty basic and not as good as some standalone website services. For people who are serious about making a living or starting a side hustle as a freelance writer, Writers Work is a great place to start!
#1 Freelance Writing Platform
Writers Work | Write your way to the life you want
"Get Paid To Write So That You're Free To Live!"
Pros:
Work Remotely & Earn Great Money

Easy To Use Job Board

Fantastic Training Materials
Cons:
Cost a Monthly Fee

Their Web Based Text Editor Is Not As Good As Grammarly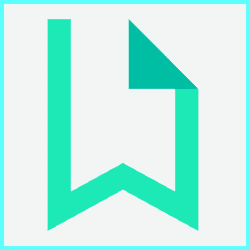 We earn a commission if you make a purchase, at no additional cost to you.