If you have noticed Grammarly not working in Gmail, you're not alone. Luckily, it is not an overly difficult fix. Read on to learn why it isn't working!

Grammarly is one of the best FREE online grammar tools for those that are looking to improve the overall quality of their writing. Not only does it allow users to easily identify mistakes – through a spell check or a grammar check – a Grammarly review can even suggest ways to fix those errors.

If you are looking to compose and send emails in any sort of professional capacity, the Grammarly app's ability to improve the readability of your writing can make a significant difference. After all, who doesn't want to send emails that have flawless punctuation and grammar?
How Can We Help?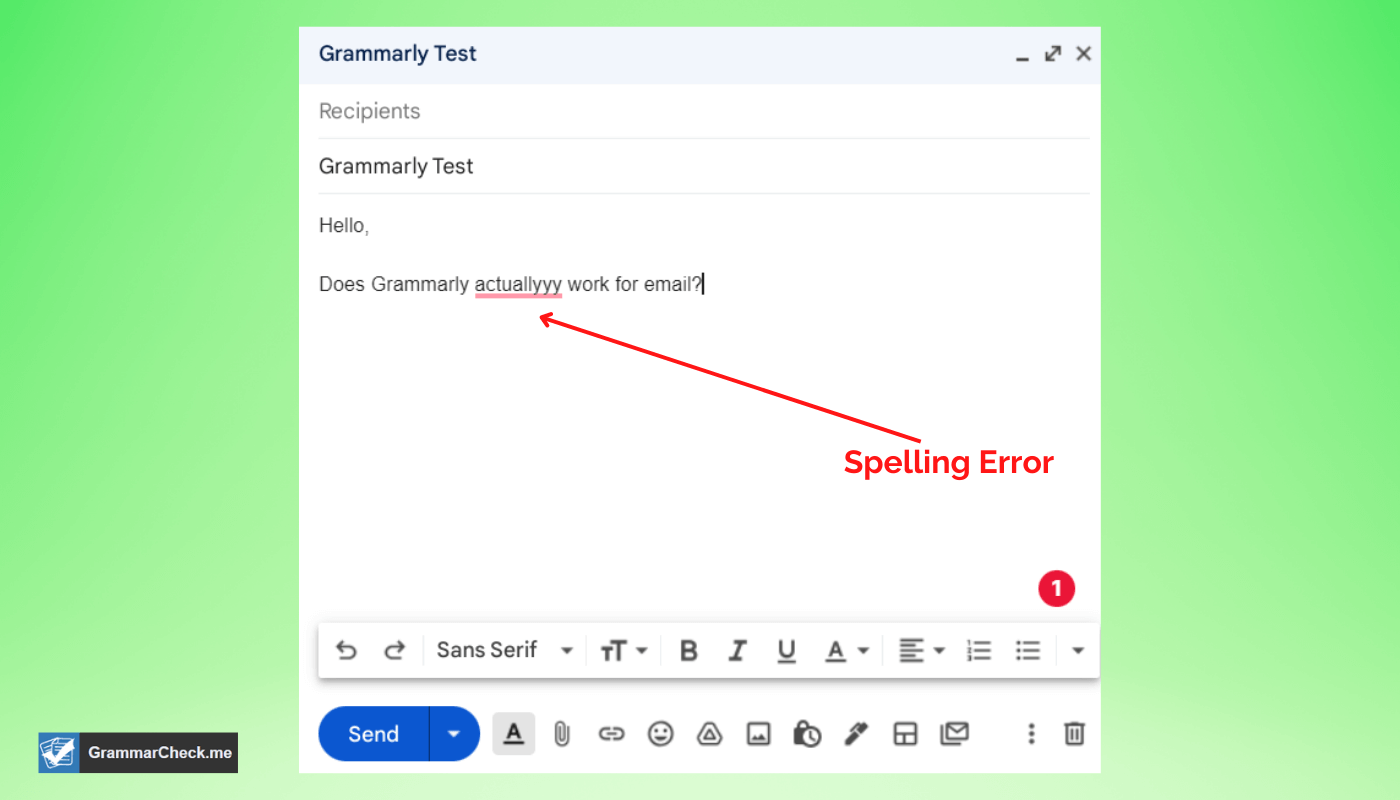 Compared to competitors like Word tune editor, Grammarly is compatible with more applications. Unfortunately, many users that enabled Grammarly run into issues while drafting emails using the Gmail extension. This is where we can help!
Today, we will be explaining why Grammarly can stop working in the Gmail app. From there, we will also go over a few quick fixes that should get your Grammarly account up and running so you can send professionally written emails to your colleagues and peers.
Grammarly For Gmail Not Working?
Before we go over the ways to address this issue, it is helpful to explain some of the reasons why it could be occurring in the first place.
The following are the main reasons why Grammarly will not work when you attempt to use it in Gmail:
You are using a VPN that is interfering with Grammarly
The version of your web browser that you are currently running is not compatible with Grammarly and it needs to be updated
An overabundance of cookie files attached to your web browser are causing Grammarly to lag and be ineffective within Gmail 
Malware attached to your web browser is preventing Grammarly from working properly
You have altered your Grammarly settings and these changes are preventing Grammarly from working properly within Gmail
You do not have proper internet access
Grammarly has been set to a language that uses right-to-left script, which will not work with Gmail. In this case, you would have to switch your interface in Gmail and Grammarly to the same language
Other extensions within your internet browser are interfering with the Grammarly browser extension
How Can I Fix Grammarly if it Will Not Work in Gmail?
If you are certain that you are not dealing with internet connectivity issues, one of the first things you should do is make sure that you have cleared cache and cookies from your web browser. This is a good practice in general, as it can help improve your overall web browsing experience.
You should also make sure that the language settings are matched within the Grammarly extension and Gmail. If, for example, your Gmail was set to English but your Grammarly extension was set to another language, you'll quickly run into compatibility issues between Gmail and Grammarly.
If you have tried all of these basic fixes to make sure Grammarly is running properly but you are still running into the same issues, you can reinstall the Grammarly extension.
In most cases, this quick procedure will fix the issue, as it removes any sort of corrupted files and returns the Grammarly extension back to basic settings.
Reinstalling the Grammarly Extension
As mentioned, this is one of the easiest and most effective ways to get Grammarly working in Gmail. To do so, proceed through the following steps:
Open Google Chrome.
Click the settings menu within the browser, which will look like three vertical dots and will be located on the right side of the Google Chrome window.
Once the menu has dropped down, select More Tools. From there, select Extensions.
This will display all of the extensions you have attached to Google Chrome. If you have previously installed Grammarly on this particular device and web browser, you should see the Grammarly logo and name.
Once you have located the Grammarly extension, select the Remove icon, which will remove it from your web browser.
Now that Grammarly has been removed, visit the Google Chrome Web Store and search for Grammarly. Or, you can click the following link for a shortcut to the Grammarly Google Chrome extension – Grammarly Chrome Extension.
From here, you simply have to add the Grammarly extension to your browser. This should only take a few moments
Once you have removed and re-added Grammarly to Google Chrome, you simply have to make sure that the Grammarly extension is turned on. Just as you did to remove the extension, visit the Extensions drop-down menu and find Grammarly. Toggle the button to the right, which will activate Grammarly.
From here, you simply have to return to Gmail and see if your Grammarly extension is working. In most cases, this simple process of reinstalling Grammarly will be enough to ensure that any compatibility issues have been addressed.
While it may sound somewhat complex, the entire process should not take more than a few minutes. These steps also apply for installing Grammarly for Outlook!
Disable or Update Other Extensions That are Interfering with Grammarly
Another issue that can disrupt Grammarly and prevent the grammar checker from working properly in Gmail is extension interference. This can occur when you are running multiple extensions within your internet browser.
In some cases, an outdated popup blocking extension could be preventing Grammarly from working, as it could be recognizing the Grammarly extension as a popup. Likewise, other extensions could be causing a security issue. Is Grammarly safe? We think so.
By removing or pausing a malfunctioning extension that is interfering with Grammarly when you are using Gmail, you should be able to address the root cause of the issue.
How to Disable Malfunctioning Extensions
Compared to popular competitors like ProWritingAid vs Grammarly, Grammarly has very few issues. However, If you have tried removing and reinstalling Grammarly but it still is not working within Gmail, you can proceed through the following steps to disable other extensions that could be responsible for the issue.
Click on the Google Chrome settings menu and select More Tools. 
Select Extensions. Once you are in this menu, you should see all of your extensions, including Grammarly.
Depending on what you would like to try, either update the other extensions, or temporarily disable them by selecting the activation and disabling toggle.
Try to re-open Gmail and see if your Grammarly extension is working properly.
With any luck, disabling or updating your other extensions should resolve the issues you were facing with Grammarly and Gmail.
FAQs – Grammarly Browser Extension
Q: Does Grammarly work with Gmail?
Grammarly works with Gmail by automatically correcting spelling and grammar errors in your email messages. The service also offers suggestions for improving your writing style. In addition to working with Gmail, Grammarly also works with AOL, Yahoo, Google docs, and most other applications.
Q: Why has Grammarly stopped working?
There could be a few reasons why Grammarly has stopped working. One possibility is that it needs an update. It's always a good idea to make sure you have the latest version of any software installed, so installing the latest Chrome update may fix the issue. Another possibility is that your browser's security settings are blocking Grammarly from running.
Q: How do I turn off Grammarly in Gmail?
To turn off Grammarly in Gmail, right-click the Grammarly icon in the toolbar and select Manage Extensions. From the list of extensions, uncheck the Grammarly box and click Save. If you later want to use Grammarly again, just repeat these steps and check the box to enable it.
Q: Why Grammarly Premium?
Grammarly Premium is a great investment. Not only does it have a world-class grammar checker, but it also has a plagiarism checker that can help you avoid accidental plagiarism. If you have the budget, I would recommend purchasing Grammarly premium for advanced writing suggestions.
Q: How do you check grammar in an email?
Outlook has its very own grammar and spell checker. However, I recommend you install Grammarly to get a more in-depth online grammar checker.
The Bottom Line
Even if you are just running the free version of Grammarly, it can act as an effective spelling and grammar checker. Intricate Text or Sloppy mistakes in your spelling and punctuation will always make your emails appear less professional. Not only are they distracting for the reader of your emails, but they also reflect poorly on you as they indicate carelessness.
By eliminating these simple errors from emails before they are sent out, you will come across as a significantly more professional person. This can be incredibly valuable, especially if you are sending emails to an employer, prospective clients, or even just your workplace colleagues.
The paid version of Grammarly acts like any other subscription service and offers far more advanced features than the free Grammarly account. When you consider how valuable it can be to send professional emails that reflect well upon yourself or your business, it is a subscription that is well worth the price.
For more information, you can also visit Grammarly's support page, which has a section specifically tailored to email-related questions – Grammarly Support.