Grammarly is an incredibly useful and effective proofreading tool, but many wonder "is Grammarly safe?" If you are unsure about using Grammarly, we can help.
While countless students and working professionals are turning to Grammarly and Grammarly Premium to help improve the overall quality and readability of their writing, many people have concerns about the safety of using this grammar checker.
Since Grammarly, by its very design as a grammar checker, reads what you write, some people worry about privacy issues. Amongst other safety-related concerns, some users worry that the Grammarly app could give unsavory characters access to their private information.
These concerns are particularly relevant for those that are considering installing Grammarly for the purpose of proofreading their emails. Grammarly is compatible with most email platforms, although some users have experienced Grammarly not working in Gmail.
If you have found yourself hesitating to install Grammarly due to safety concerns, you have come to the right place for your Grammarly review. Not only will we answer the question of "is Grammarly safe", but we will also address some of the more pressing security concerns many users have, whether it's about Grammarly Premium, Grammarly Business, or any of the other Grammarly features.
So, Is Grammarly Safe?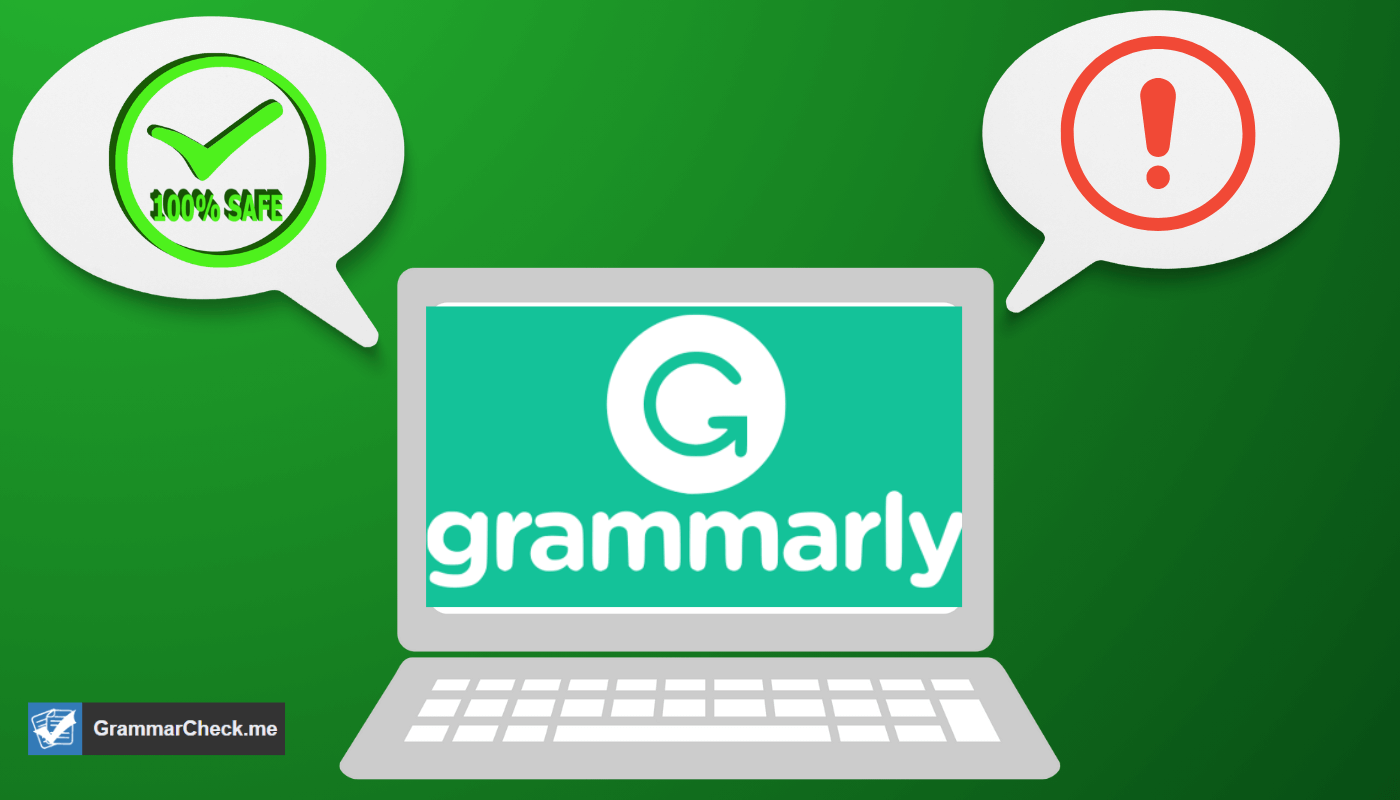 While it is never a bad thing to be concerned about safety and security when using any sort of third-party internet extension, Grammarly is actually an impressively secure and safe product compared to competitors like Wordtune. This explains why Grammarly is trusted by so many high-level organizations and academic institutions.
With that being said, it is always important to do your research before you ever consider exposing sensitive information to outside sources, which includes proofreading programs like Grammarly & QuillBot.
This is why we are going to review some of the ways that the Grammarly editor protects the privacy of its users.
Grammarly's Data Security Protocols
No matter if you are adding Grammarly to Outlook or using it on MS Word, Grammarly employs the highest levels of data protection available across its entire product ecosystem. To do so, the Grammarly platform is built on the most secure infrastructure in the industry.
Data hosting is carried out by Amazon Web Services. Given that Amazon Web Services is compliant with ISO 27001 regulations, you can trust your sensitive data will not be exposed while you conduct a grammar check.
All data that passes through your Grammarly account is also encrypted. Data in transfer is protected using the TLS 1.2 protocol, while data that is at rest is encrypted using AES-256 server-side encryption.
Grammarly also relies on a private network and secure cloud platform for hosting its user's data & user content. This means the information you used to sign up for Grammarly is not exposed and remains protected behind load balancers and a web application firewall.
While this may sound rather complicated, it is all compliant with the highest industry standards for data collection, protection, and encryption. Compared to competitors, like ProWritingAid vs Grammarly, Garmmarly works hard to ensure your info is not exposed to the outside world.
Grammarly's Focus on Privacy
Grammarly does a great job fixing spelling errors and intricate text. But what about privacy? While the actual mechanics of internet security can be somewhat difficult to understand, the main takeaway is that Grammarly places a great deal of importance on maintaining a secure platform for its users while they look to correct a spelling mistake or a variety of grammar mistakes.
One of the many ways that Grammarly protects its users is by maintaining a dedicated, in-house security team. These internet security experts focus exclusively on ensuring security and privacy within the Grammarly infrastructure.
The in-house security team is constantly testing the Grammarly platform for potential vulnerabilities so they can be addressed before a security breach occurs. Grammarly also undergoes external security audits to ensure that its infrastructure is impenetrable from the outside.
The team also reviews risk management strategies on a routine basis, which ensures that security and privacy practices are constantly evolving to counter potential threats. Even within the actual company, Grammarly's employees are only granted the minimum level of access necessary to help the Grammarly user.
This means they do not have access to what you write, and all of their workstations run on centrally controlled endpoint-management software that enforces security and protection for Grammarly users.
As you can see, the company employs rigorous security policies and procedures at every single level. If you do not believe Grammarly's own claims about its culture of security and privacy, you can always read through their security practices, which the company makes plainly available on its own website – Grammarly Security Practices.
Is it Safe to Download Grammarly to Your Computer?
While many people use Grammarly as an internet browser extension, versions of Grammarly can also be downloaded to your computer or used as Grammarly on Slack. This allows you to run Grammarly within word processing programs like Microsoft Word.
Fortunately, Grammarly is perfectly safe to download to your computer. This is because Grammarly is not a malware species, and it has never been infected with any type of virus.
Part of the reason for Grammarly's astounding popularity is the fact that it has earned the trust of hundreds of thousands of users by keeping their data safe and secure.
Does Grammarly Claim Ownership of Your Writing?
Another common question many Grammarly users have is whether or not Grammarly itself stakes any claim to ownership of your writing.
While it is true that Grammarly does store your work on its servers, this is only necessary so its powerful proofreading software that'll help you catch punctuation mistakes or word choice errors can review your work. Once you delete that work from your Grammarly account, it is simultaneously deleted from the Grammarly servers.
Grammarly never requests ownership rights to any content created by its users. If you use Grammarly to review your work, you retain full ownership rights to the content, and your position as the author will never be questioned.
Does Grammarly Log Everything You Type, Even When You Are Not Using It?
According to Grammarly's own website and support team, none of the applications within the Grammarly platform record the keystrokes that you make. The entire purpose of Grammarly is just to review text that you want to have proofread and reviewed.
Unlike keylogging apps, Grammarly does not record keystrokes. Users also have the option to select a "Sensitive Text" option, which will prevent Grammarly from proofreading that particular segment of text.
This can be useful if you have concerns about sensitive information being exposed, such as credit card numbers, online banking information, or passwords to various websites and programs.
FAQs – Grammarly Security
Q: Is Grammarly safe and secure?
Yes, Grammarly is safe and secure. All your data is encrypted and safeguarded with the latest security technology. Unlike other browser extensions, Grammarly does not disclose personal data. They only store personal data pursuant to their terms of service. In fact, they are a part of the Cloud Security Alliance to help fulfill legal obligations, further bolster its defenses, & keep the browser extensions safe.
Q: Does Grammarly steal or send data?
No, Grammarly does not sell or rent user data. They are committed to protecting the privacy of our users and their contact details. Your information will only be used for "legitimate business interests", such as email marketing so that you receive the latest promotions. Premium users who have stored their payment information often worry about security practices. However, Grammarly's credit card forms are encrypted and held securely.
Q: Is Grammarly a keylogger?
No, Grammarly is not a keylogger. It is a proofreading and plagiarism detection tool that helps you to identify mistakes in your writing. The Grammarly browser extension only monitors the text that you writing, as you're writing it!
Q: Is Grammarly owned by Google?
Grammarly is a privately owned company that does not publicly disclose the personal data of the owners.
Q: Can Grammarly access password?
No, Grammarly cannot access password information. The only information that Grammarly can access is the text you type while you are using the app. This means that your passwords and other personal information are safe from prying eyes. Although you use Grammarly at your own risk, it is not much of a risk at all!
Q: How do I delete Grammarly history?
To delete your Grammarly history, you'll need to access the cookies and site data section in your browser settings. Once you've located that section, click on the "Manage Data" button. From there, you should be able to identify and delete the Grammarly cookies. Finally, click "remove all shown". This will erase your Grammarly history from your computer.
Final Words Regarding the Safety and Security of Grammarly
Given Grammarly's impressive commitment to the safety, online security, and privacy of its users, it can be deemed a trustworthy service.
If you are someone that believes they could benefit from extra help with spelling, punctuation, and even the overall readability of their writing, Grammarly can be an incredibly valuable resource. Thankfully, Grammarly is just as safe and secure as it is effective!
If you are interested in downloading Grammarly, or even just installing the Grammarly extension on your web browser, you can visit the following link for sign-up instructions – www.Grammarly.com Sign Up Page.
If you still have safety concerns, and you are hesitant to use Grammarly, you can also visit its Safety and Security Page, which explains its security policies as well as provides a list of its regulatory certifications for your peace of mind.