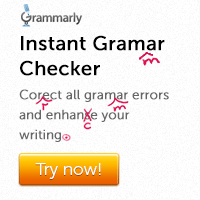 Grammarly can help you find text inconsistencies in your writing and even offer suggestions on how to fix them. The English language is very complicated. It's full of inconsistencies and exceptions. Sometimes, English grammar seems to break its own rules! Grammarly is a great tool for helping writers learn best practices for grammar, punctuation, and spelling.
Regardless of the situation, effective communication is key. There are a number of programs and templates out there to help you with this. Furthermore, the English language is constantly evolving, and so the rules often change with it. When you write with consistency, it establishes credibility.
This journey begins with proper writing and using rules consistently in your document. Then it becomes about keeping your writing consistent. This means that it is done the same way each time in each context. It may be challenging for students or those whose first language is not English. This is where Grammarly shines.
By following consistent numbers, punctuation, and hyphenation, documents appear more polished. So, even if English isn't your first language, you will still come across as professional in your communication thanks to your Grammarly editor. Here, we present our Grammarly review.
Maintaining Professionalism and Consistency
Remembering each grammar rule, nuance, and punctuation can be challenging if not daunting. Grammarly Premium allows users to check for clarity, accuracy, and writing consistency. This grammar checker's writing suggestions alert users to variations in their use of quotation marks and apostrophes, among other punctuation errors. It will flag inconsistencies and provide suggestions for improvement.
Grammarly Premium acts as a dedicated editor for your writing needs. Since most of us don't remember every grammatical rule we learned in school, Grammarly tracks the details for you. When we type a quick email or document, we may not have time to read through it word-for-word. Thankfully, Grammarly automatically does this for us and provides suggestions to correct any grammatical or spelling errors.
Not only will you appear professional, but you can also check for different writing styles like business, academic, general, technical, casual, and creative. It offers a range of writing suggestions based on your type of writing and target audience.
Tips on How to Use Grammarly
Grammarly offers different versions. There is the basic version and the advanced version. The basic version, Grammarly free, can be installed in your browser or Microsoft Word. Functions may be limited, but it will underline text inconsistencies for you. However, it will be up to you to figure out how to fix them.
The premium version does everything for you, including making suggestions for how to correct grammatical errors and spelling mistakes. Yet Grammarly extends beyond just being a spelling and grammar checker. Here's how to make the most of everything Grammarly has to offer.
1. Examine Language Preferences
Common errors result from not selecting the correct language. The U.S. and U.K. are known to be two countries separated by a common language. This means that while both countries use English, each has different grammar and spelling rules. Grammarly allows you to pick between American English, Australian English, British English, and Canadian English.
2. Add the Grammarly App to Chrome
You don't have to visit Grammarly.com to check a document. The free Chrome extension allows you to automatically check your documents. Whether you are writing a post, an email, or anything online, Grammarly is there to guide you.
3. Download Grammarly for Microsoft Office and Windows
You aren't stuck with using whatever tools are bundled with Word or Windows. While these programs do offer basic suggestions, their feedback isn't as comprehensive as Grammarly's. All you need to do is go to My Grammarly, select the proper app, and install it.
4. Add Specialized Terms to Your Personal Dictionary
While Grammarly contains preloaded terms, it doesn't have specialized jargon. You can avoid common words being flagged by adding them to the dictionary. Open the Grammarly profile, type in your new word, and select "add." Just be sure there are no typos!
5. Find the Proper Tone
When sending messages, it may be challenging to determine whether it has the correct "feel." Sometimes, we come across as too formal or informal in certain emails.
Additionally, the tone may sound aggressive if you're angry. The tone detector in Grammarly uses rule combinations and machine learning to analyze the message for tone.
6. Learn to Develop Consistent Styles
While some forms of punctuation are technically correct, it may appear sloppy if there are style inconsistencies in the same document. Grammarly Premium checks for consistencies, allowing you to use the same punctuation and spelling throughout the document.
7. Write for the Proper Audience
Grammarly tailors writing suggestions based on your specific audience and goals. You can select a general, knowledgeable, or expert audience. Formality can also be established as informal, neutral, or formal so that you get the right tone each time. You can also match the venue for creative, casual conversation, business, or academic.
8. Suggestions Can Make You More Diplomatic
Grammarly automatically detects harsh words and provides alternatives that people may find less abrasive.
9. Avoid Unintentional Forms of Plagiarism
No one wants to accidentally copy another person's writing. To ensure that you aren't using someone else's work or incorporating phrases heard elsewhere, use the plagiarism checker before sending.
10. Make Your Writing More Fluid
Fluid writing makes reading both easy and pleasurable. Wordiness and poor sentence construction make the document sound choppy and unnatural. Grammarly Premium contains a fluency feature that offers suggested word choices to help improve your word flow.
Final Words
When it comes to text inconsistencies, Grammarly will help you pick them up in an instant. It provides suggestions on more than just grammar and spelling. This tool encompasses things that many applications do not. It helps with the overall tone, audience, and flow, allowing you to perfect all forms of communication for a smoother delivery. It provides the entire package for writing.